APPLES

Throughout the year we monitor and care for more than 50 acres of apple trees, and as fall arrives we anticipate picking the more than 20 varieties of eating and cooking apples as they reach the peak of flavor.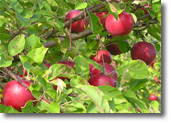 FRESH CIDER

Since 1853, the Dowse family has operated our cider mill, the current apple presses having been in operation since 1947. Each year we combine several apple varieties of the highest quality to produce our pure, fresh apple cider with no additives or preservatives. We abide by the guidelines of the MA Cider Guild and GMP's as outlined by Massachusetts and the FDA and are inspected and certified annually. Our mill operates under the direction of a certified food handler, and we have instituted the latest FDA approved process for sanitary control of unwanted bacteria by treating our cider with a UV (ultraviolet) light process just prior to bottling. This process ensures the safest cider without compromising the taste for which our cider is known.

VEGETABLES

By the middle of spring. The farm stand shelves are filled with the most popular fresh fruits and vegetables, including head and leaf lettuces, full size and cherry tomatoes and watermelons. We also offer unique gourmet items like maple syrup, preserves and the finest mushrooms. When we cannot supply all the wholesome fruit and vegetables we offer, we work closely with many other Massachusetts farm to bring you the daily harvest of the best produce the area can offer.

PUMPKINS

With the cider and apples, autumn brings on the endless array of orange pumpkins for home decorating and Halloween creations, with every size and shape available. You can also find hay bales, corn stalks and hardy mums for creating your own colorful fall cornucopia of decorations.



FLOWERS

Beginning in May, the Farm Stand is alive with color as we display our wide variety of greenhouse grown flowering annuals of endless colors and shapes. We also offer hearty plants to beautify your gardens and a wide selection of herbs.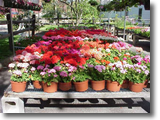 GIFT PACKS

For information about our "apples by mail," please call the farm stand at 508.653.2639 or toll free at 1.877.653.2639.
Our shipping clerks are available Monday through Friday 9:00 AM to 5:00PM EST.